In order to re-publish your app. Four remaining steps need to be completed if you would like to update any, namely:
Click on 'Next'.

---
Step 4: Terms and Conditions
Read and check the box to agree with the terms and conditions. You have to agree with the terms and conditions to proceed.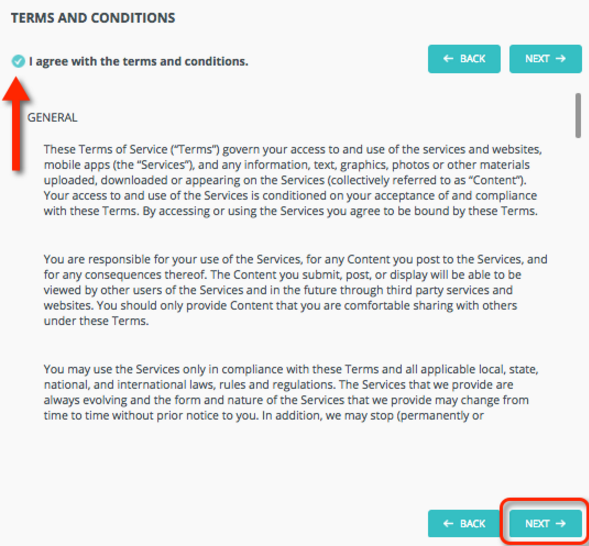 Click on 'Next'.

---
Step 5: Subscription information
As this is the new update so you can not change 'Subscription billing period' and it will keep the same as that in previous request.
Add 'Promotion code' if you received one from JMango360.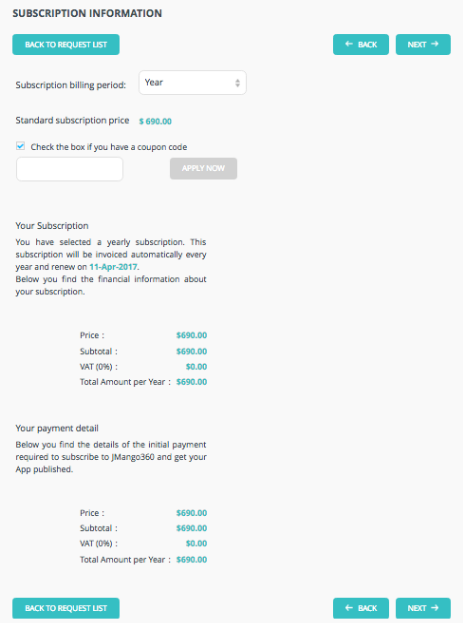 Note: You can choose the Subscription billing period only for first time create a publishing request. From the second time, if you publish the same application to another store, you don't have to select the Subscription billing period.
Click on 'Next'.

---

Step 6: Confirmation
Before you submit your app, make sure that all the (marketing) information update you entered in the app is correct.
YOU ARE NOT ABLE TO CHANGE THIS ONE IT IS SUBMITTED.
To submit your app, click on the button 'Submit'. If you are not ready to publish your app yet, you can exit the publishing stage at any time and the information provided is saved automatically!

Note: You only need to provide your credit card information for the first time paying for the first application publishing. From the second time, the system will re-use previous stored credit card detail and skip this step.

Congrats, you have now re-published your app! You will receive an e-mail with an update once your app is live.
For more detail, please refer to this article.